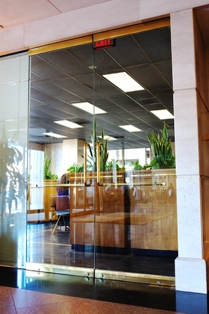 Lounge
Regions Center provides a Lounge for the use of tenant employees and visitors. Located on the south side of the Regions Tower lobby, the Lounge benefits everyone by offering a safe, comfortable, and convenient location for employees to smoke without having to go outside of the building and gather near entrances, thus inconveniencing non-smoking employees and visitors. The Lounge features:
Tables and seating for 25;

Available 24/7 for Regions Center tenants;

Counter with sink and microwave;

Open design with good lighting and large windows;

Supplemental ventilation

Additional cleaning by day cleaning staff twice daily
As a reminder, Regions Center is a non-smoking environment. Please refer to our Smoking Policy for additional information.