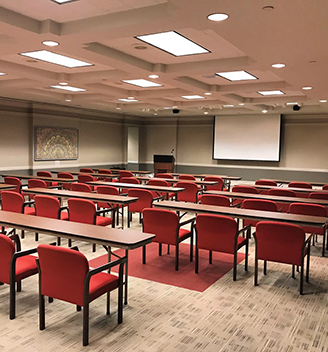 Wheless Auditorium
Regions Center is the only area office property that offers a fully equipped auditorium. Centrally located beneath the atrium at the foot of the waterfall stairs, the Wheless Auditorium is used by tenants for corporate meetings, training, and other company functions; and features the following:
200-capacity seating with various configurations
Speaker's podium
Public-address system
Internet/ phone, projection screen, conference capabilities
On-site kitchen available
For reservations, complete and submit the Wheless Auditorium Use Agreement to the property management office. Please make your reservations one week in advance to avoid scheduling conflicts.