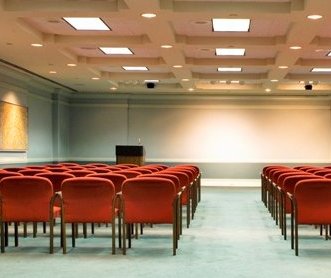 Wheless Auditorium
Regions Center is the only area office property that offers a fully equipped auditorium for tenant meetings and special events. The Wheless Auditorium is centrally located below the atrium at the foot of the waterfall stairs and features the following:
Seating for up to 150 in various configurations
Speaker's podium
Public address system
Projection screen
Internet
Phone
Conference call capability
Fully equipped kitchen
For reservations, complete and submit the Wheless Auditorium Use Agreement to the property management office. Please make your reservations one week in advance to avoid scheduling conflicts.